Connected Chiropractic Community Involvement
We are always looking for ways to broaden our Johnstown, Colorado community involvement. Whether that includes partnering with local non-profit organizations or making a good impression to others who can bring in revenue, we care about providing assistance to Johnstown, Colorado and the local surrounding areas. We want to help our local community with more than just their health! Read more to learn about who we partner with and the ways you can contribute to help support your fellow community members.
Connected Chiropractic is always on the lookout for ways in which we can help both the members within our local community and to promote it to those who are outside of it. Through multiple types of support, we help members within the community in order to maintain a successful and special area that will continue to thrive and encourage the people within to care about one another. Dr. Brad, and the rest of the staff, are also regularly looking for ways to make a welcoming and lasting impression on those visiting the local community and surrounding areas. This will promote further growth by inspiring more visitors to the area that could bring in revenue through entertainment venues, willing others to relocate to the community, and bringing the knowledge of health and wellness to the world through avenues other than the internet.
Read further on other ways in which we support and promote our local community:
Pictures With Santa
Come on down to Connected Chiropractic and join us for your picture with Santa on Saturday December 9th from 10am – noon.  Santa & Mrs. Claus Holiday Photos will be available by appointment only by clicking on the link below and scheduling your time slot today. Slots are limited.
These are 5-minute sessions with one complimentary image included for free, but you can certainly purchase extra images when the full gallery is delivered. Thank you for your business! We appreciate your support.
When: Saturday, December 9, 2023
Where: Connected Chiropractic
Office Mitten Tree
Every year, Connected Chiropractic has a Christmas tree that we put up in our office that collects donations for the local Johnstown/Milliken school district. We ask all our patients to bring hats, socks, coats, and mittens for kids and adults that are in need of warm clothing during the cold Colorado winter months.
During the first week in January, all of the tree "décor" gets donated to the Weld RE-5J school district to be given out to families in need. Help keep the members of your community warm this winter and bring your donations to add to the tree starting on December 1st.
Trick or Treat Street
The leaves are turning and there is a crisp nip in the air that signals Fall is on the way. October 28th will be Trick or Treat Street here in Johnstown. A time to dress up and participate in the community fun of Trick or Treat.
Make sure you stop by Connected Chiropractic to grab warm hot chocolate, get a pumpkin, and have your picture taken with Rupert and Max our skeleton and dog who will be dressed and ready for pics. There may be some other ghostly friends to take pictures with as well! Pictures will be posted on FB and Instagram and there will be prizes for the most likes. When you friend us and share with your friends ask them to like your post and get ready to win.
Mark your calendar for October 28th from 10 to noon here in Johnstown and be sure to stop by Connected Chiropractic at 32 Rutherford for some Halloween fun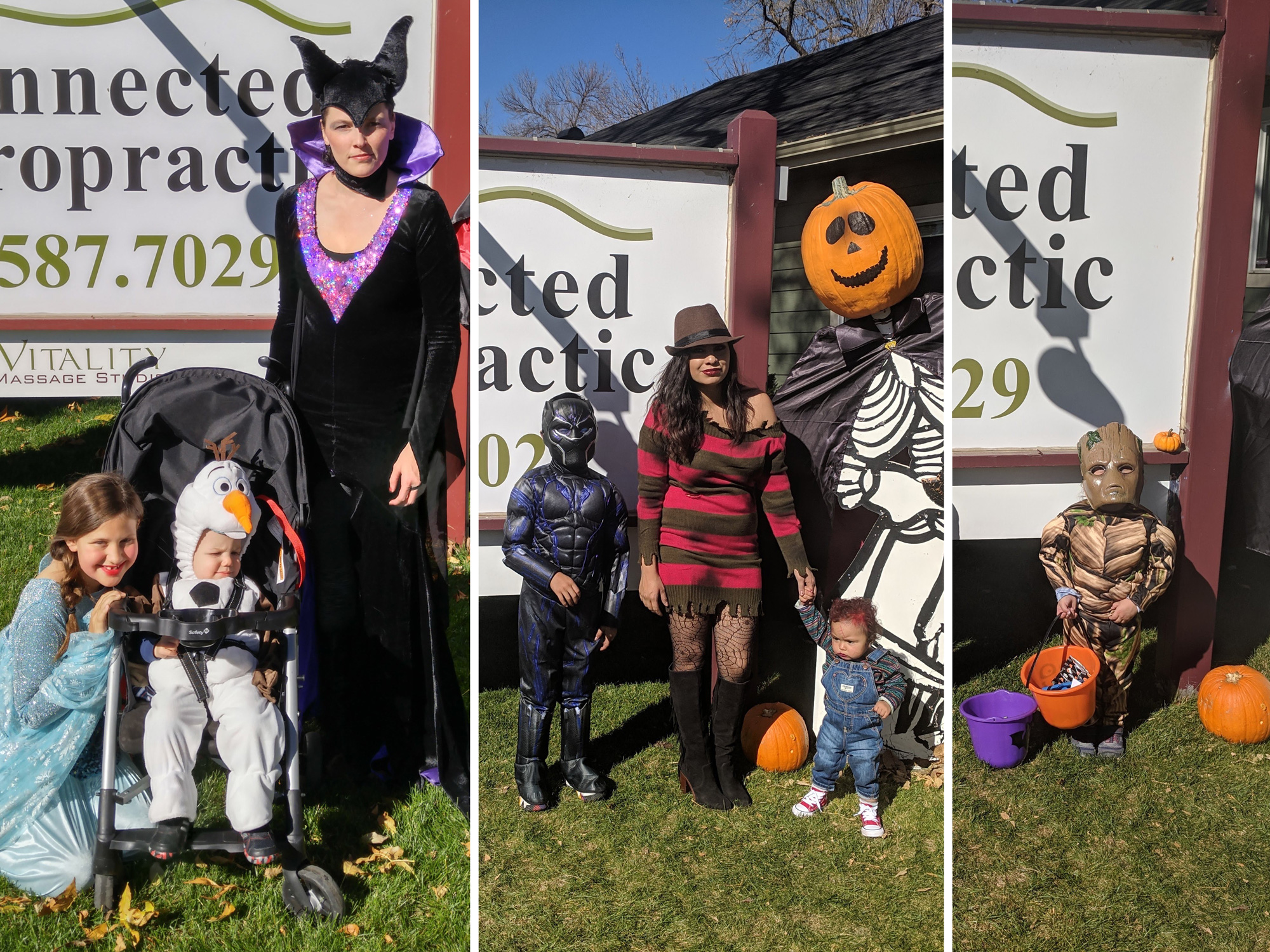 Johnstown Rotary Club
Rotary is a global network of 1.4 million neighbors, friends, leaders, and problem-solvers who see a world where people unite and take action to create lasting change – across the globe, in our communities, and in ourselves. For more than 110 years, Rotary's members have used their passion, energy, and intelligence to take action towards solving problems – from literacy and peace to water and health. Rotary's mission is to provide service to others, promote integrity, and advance world understanding, goodwill, and peace through our fellowship of business, professional, and community leaders. Rotary is made up of three parts: our clubs, Rotary International, and The Rotary Foundation. Dr. Brad, along with Connected Chiropractic, is an active member in the Johnstown Rotary Club. He is also actively involved in bettering the local community through multiple events and avenues each year.
Follow them on Facebook for upcoming activities sponsored by the club to promote Johnstown Colorado community.
Dictionary deliveries!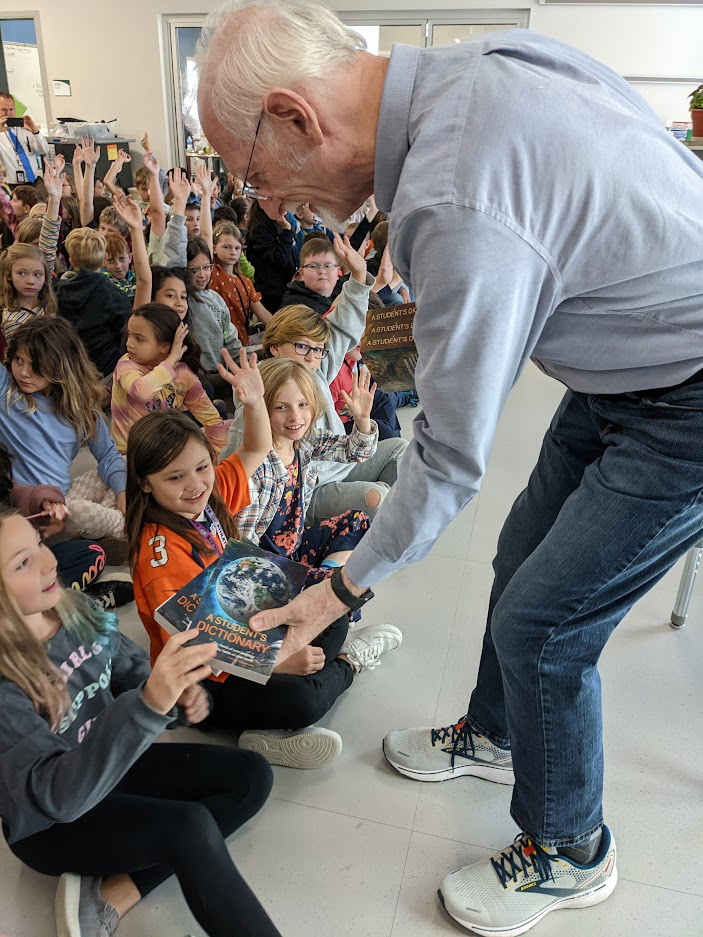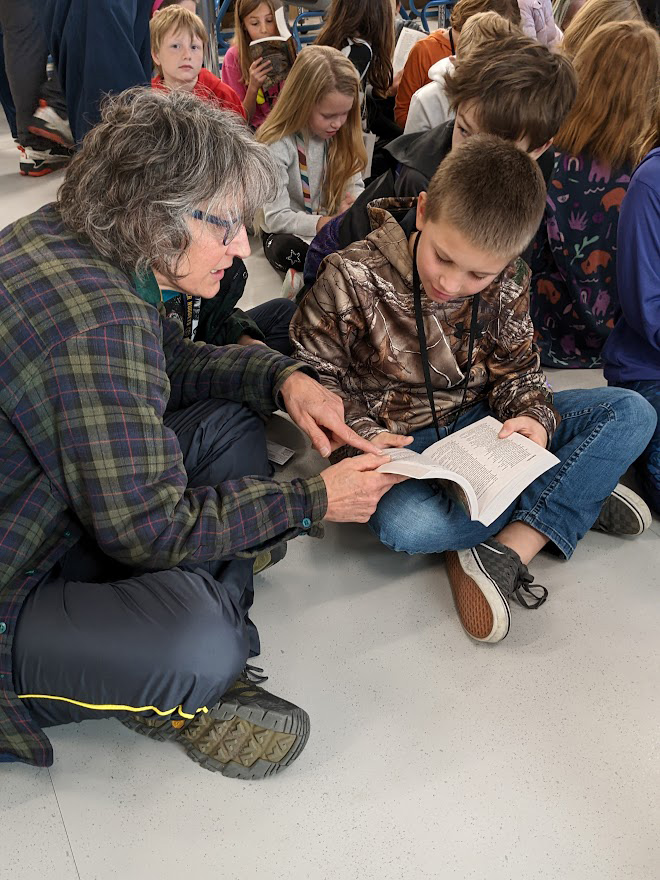 Every year, the Johnstown Rotary Club pays for and delivers dictionaries to all third-grade students in the Johnstown and Milliken areas. Dr. Brad is one of the members in charge of organizing this event. It is also one of his favorite times of the year. The third graders are always so appreciative of getting a full-sized dictionary and to be recognized by the Rotary Club. This year, dictionaries are going to be delivered on November 11, also Veteran's Day, and will encourage the expansion of knowledge to our future generation. What better way to get involved in your Johnstown Colorado community involvement than educating the future youth! They are always looking for volunteers.
The schools we delivered to this year include:
Elwell Elementary
Milliken Elementary
Pioneer Ridge Elementary
Knowledge Quest Academy (KQA)
Frontier House
Connected Chiropractic is a proud promoter of Frontier House, a Clubhouse in Greeley, Colorado. It fosters dignity, self-respect, and success for people with mental illnesses. The Frontier House was established in 1990 and follows the Clubhouse Model of Psychosocial Rehabilitation. We believe in their mission to connect their members with the community, to support them and encourage their full potential, and to accept them all for who they are. Also, clubhouses like Frontier House help individuals get back to work, regain their self-worth, find safe and affordable housing, improve their education level, and experience mutually respectful relationships.
Frontier House helps its members by following three steps. First, it creates a place where people can gain self-confidence. This is achieved by providing members with an opportunity to work together with staff in running the Clubhouse in an activity known as the "Work Ordered Day." Second, members are encouraged to identify and pursue personal goals to improve quality of life. And third, each person in the Clubhouse is made to feel that they are wanted, needed, and expected. Because of their wonderful cause and systems, Connected Chiropractic and its staff regularly participate in events that encourage donations to help Frontier House achieve its goals.
Read below for upcoming ways to support the cause:
12th Annual Breakfast
Frontier House is having their 12th Annual Breakfast on Wednesday, May 10th, 2023 from 7:30 – 9:00am. Join Terri Lee Williams, our patient educator, and others at the DoubleTree by Hilton at Lincoln Park for a wonderful meal to start off your day. It is located at 919 7th Street in Greeley, Colorado. Connected Chiropractic is offering to match up to $300 for additional donations to the breakfast event. The Annual Breakfast for Frontier House is a morning filled with inspirational stories of how the non-profit has changed many lives for the better. There will also be opportunities to win prizes as well! RSVP to Renee.Schell@NorthRange.org by April 20, 2023. You can also call 970-347-2475 to learn about becoming a sponsor, like us, for the event. We look forward to seeing you there!
Holiday Food Drive 2022
Frontier House is having an Annual Thanksgiving luncheon on Wednesday, November 23rd at 11:00am. We are collecting donations at the office to help them make the holidays festive for their Clubhouse community! All are welcome and it will encourage Johnstown Colorado community involvement by showing our support for a good cause.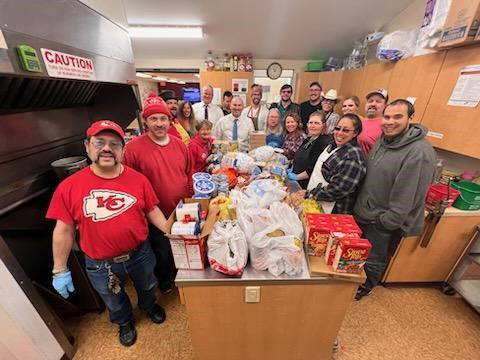 Donations will be accepted through Thursday, November 17th. Donations needed include:
Turkey/Ham
Dinner Rolls
Marshmallows
Potatoes
Stuffing
Desserts
Gravy
Green Beans
Canned Yams
French Onions
Cream of Mushroom Soup
Cranberry Sauce
Monetary Donations will be used for the meal as well as needed items for the holidays.
Johnstown Downtown Development Association
Connected Chiropractic is an active member of the Johnstown Downtown Development Association (JDDA). We believe in its purpose to foster economic development and revitalization within Downtown Johnstown. Both the residential and commercial portions of a town or city are important elements of the history, character, and vitality of the area, which is why Connected Chiropractic, and its staff, regularly participate in the activities promoted by the JDDA. Downtown Johnstown is filled with kind, compassionate, smart businesses that are eager to serve you and your friends and family! We want to help support the JDDA and its goal to create, support, and promote meaningful downtown experiences, business growth, and private development in Downtown Johnstown to ensure that our local area is economically sustainable and that we are a welcoming gathering place for those visiting our community. Read further for upcoming JDDA events:
Johnstown Jingle 2022 and Toy Drive
Downtown Johnstown will be throwing their annual Johnstown Jingle on December 4th from 2:00 p.m. – 6:00 p.m. Join our community for the 4th Annual Johnstown Jingle! Santa and his reindeers will be making an appearance as always. The event is welcomed to all ages and has grown to be a fun-filled, FREE family holiday event. Connected Chiropractic, along with other local business, will be collecting toys for kids in our community. 100% of the toys and cash are donated to children who would not otherwise have a Christmas. Be a true giver this year and participate in Johnstown Colorado community involvement by giving to children less fortunate and presenting them with the Christmas they deserve.
Our office will be accepting donations from November 14th until December 21st.
Leonid and Friends/Band Adjustment
Dr. Brad has been invited back this year to adjust members of Leonid and Friends in Parker, CO at the Parker Arts Theatre! This will be the second year that Dr. Brad has provided adjustments to this band…that must mean he made quite the impression. As the band begins to grow, they will bring more income and notoriety to our local area in Colorado! Maybe next time, they might consider performing in Johnstown (fingers crossed)! Leonid and Friends is a Chicago tribute band based in Moscow. Leonid and Friends started as a YouTube band and now tours. They can now also spread the benefits of Chiropractic to their fan base and encourage others to seek the natural healing touch of wellness care and regular adjustments. Show your support and go see them live! They are great!
What Our Patients Are Saying...
Your Health Starts Here!
Let us know how we can help by filling out the form below or give us a call at (970) 587-7029