Treating Joint Pain with Chiropractic Care
If you suffer from joint pain and discomfort, you are not alone. Joint pain is a common symptom that most individuals experience in their hips, knees, hands, feet, and spine at some point in their life. The pain can be chronic and constant, but sometimes it comes and goes.
Joints can be swollen and stiff. Sometimes, this is accompanied by dull aching or even sharp pain. Burning and throbbing sensations are also common. Symptoms of joint pain are the result of inflammation within the area and this inflammation can be caused by many things, including allergies and wounds. Movement can help loosen up joints, however, repetitive movement in one location can worsen the pain. This is due to an increase in the existing inflammation.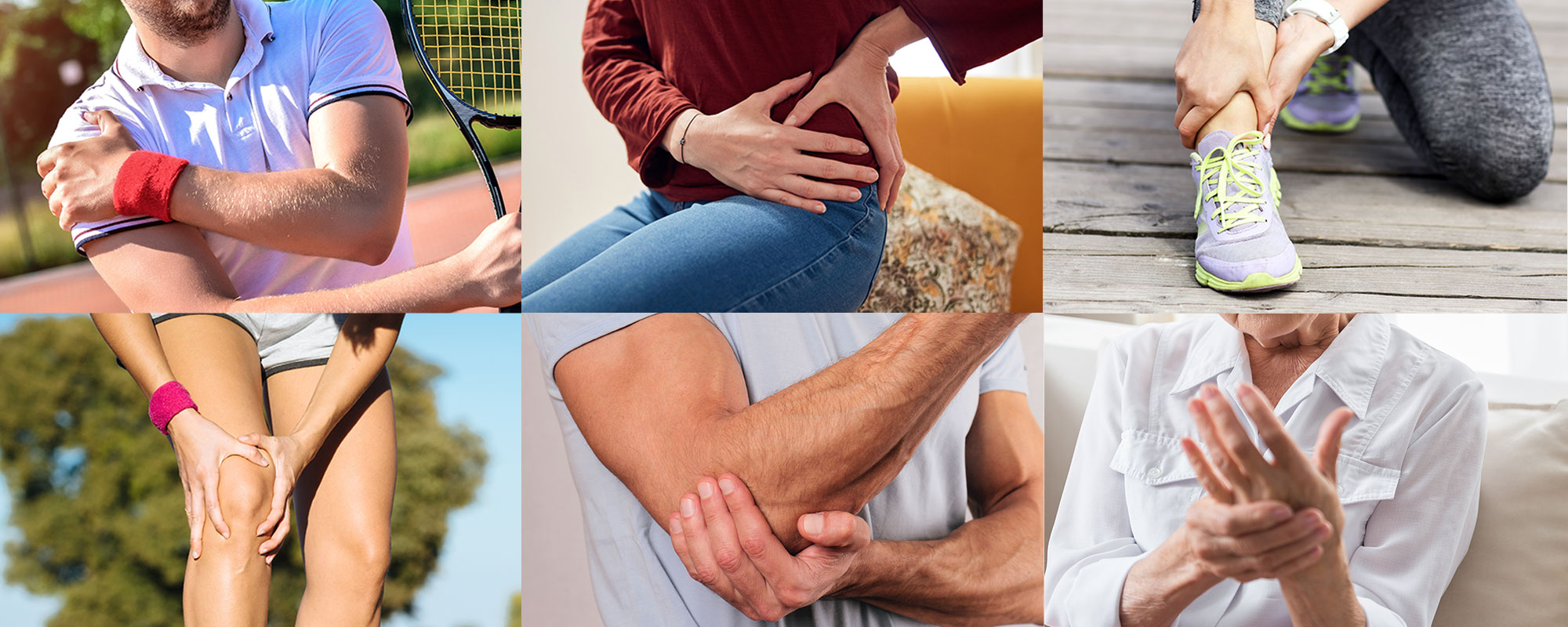 Joint pain can severely impact quality of life as it can limit a person's ability to do basic daily tasks. Connected Chiropractic's treatment of joint pain focuses not only on the pain-based symptoms, but also on correcting nerve function within the body to reduce the inflammation that is causing the symptoms. We want you to do the activities you enjoy and function daily without be impacted by the pain.
What Causes Joint Pain?
The most common cause of chronic pain in joints is inflammation. Here is a list of common conditions that result in joint pain:
Tendinitis: This type of joint pain is caused by inflammation of the tendons, which are flexible bands of tissue that connect our body's bone and muscle. Tendinitis is typically seen in the shoulder, elbow, or heel. It is also a type of joint pain caused by overuse.
Injury: Broken bones or sprains can cause joint pain. It is not uncommon for old injuries that have long since healed to cause joint pain as the body ages.
Osteoarthritis: This type of arthritis happens over time when the cartilage, which is the protective cushion between bones, wears away. With the loss of cartilage, joints can become painful and stiff. Osteoarthritis typically develops slowly and usually begins during middle age.
Rheumatoid Arthritis: This type of arthritis is a chronic disease that causes inflammation, swelling, and pain in the joints. With Rheumatoid Arthritis, joints become deformed. Most deformity happens in the fingers and wrists.
Bursitis: One of the most common causes of joint pain, Bursitis is due to overuse of a joint. Most people experience Bursitis in a hip, shoulder, elbow, or knee.
Gout: This painful condition occurs when crystals form and collect in joints, causing irritation, severe pain, and swelling. Most often, gout will affect the big toe.
Viral infections: Illnesses, rashes, and fever can also account for joint pain. This type of joint pain typically passes once the infection or illness passes.
At Connected Chiropractic we use the "Three Ts" approach to treating Joint Pain.
If functioning properly, your body is a resilient, self-healing, and self-regulating system.
At Connected Chiropractic, we treat the whole body to ensure that the body, central nervous system, and mind are working in tandem throughout the healing process. We believe the best way to treat and prevent joint pain is by understanding the "Three Ts":
Thoughts, Toxins, and Trauma.
Our mission is to ensure that everyone we treat has a better understanding of the "Three Ts" and the impact they have on your health and wellness. CLICK HERE to learn more about the "Three Ts".
Some individuals are more prone to joint pain than others. Some of the risk factors and causes outside of inflammation that result in Joint Pain include:
Overuse of a muscle and joint
Past injuries to a joint
Arthritis or other chronic illness
Depression
Anxiety and stress
Obesity
Poor overall health
Age is also a joint pain factor. Years of use, and wear and tear on joints, may cause joint pain in middle-aged and older adults.
Treating Joint Pain with Chiropractic Care
Chiropractic care is a holistic, non-invasive approach to treating joint pain. Connected Chiropractic's Board-Certified Chiropractor focuses on the Three Ts to improve the relationships of the structures of the body and their functions. Our chiropractic care can be extremely beneficial in improving the function of painful joints.
With this being said, we take great care in making sure the proper type of chiropractic adjustments are matched to our patients' specific types of joint pain.
For some forms of joint pain, like osteoarthritis, bursitis, and tendinitis, chiropractic care is typically a safe and effective treatment. However, for arthritic conditions caused by an inflammatory disease, such as rheumatoid arthritis, care must be exercised.
Rheumatoid Arthritis, commonly referred to as RA, is an autoimmune disease where the body's immune system attacks the joints. This causes the tissues that line the inside of the joints (the synovium) to swell. The swelling is what makes the joint so painful. When working with patients with Rheumatoid Arthritis, our chiropractor uses non-force adjustments which use gentle pressure and skilled stretching performed in a specific sequence to help ease RA joint pain and improve range of motion.
Osteoarthritis, a degenerative joint disease and one of the most common medical conditions, affects over 25 million Americans. Connected Chiropractic is highly skilled at treating osteoarthritis joint dysfunction. Relieving pressure in the spine and mobilizing the joints with non-force adjustments helps to dramatically decrease joint pain. Traction, which is another type of low-force treatment, is also used to treat patients with Osteoarthritis joint pain. Traction involves a gentle and steady stretching of the affected area of the body.
Other forms of treatment our Chiropractor uses to treat Joint Pain include:
Massage Therapy: Connected Chiropractic's massage therapy provides effective and soothing relief of joint pain. Massage has multiple health benefits outside of relaxation. When partnered with chiropractic care, it can drastically improve joint pain. By inducing deep muscle relaxation, endorphins are released that act as the body's natural painkiller.
TENS (transcutaneous electrical nerve stimulation) Therapy: TENS is a small, non-invasive, nerve stimulating device that relaxes the back muscles, eases spasms, increases endorphins, and reduces pain. TENS therapy is another treatment that can dramatically reduce joint pain.
Interferential Current Therapy: Interferential current therapy works by sending small amounts of electrical stimulation to damaged tissues in the body. Unlike other methods of low frequency electrical stimulation, these currents encounter a low electrical resistance and can thus penetrate deeply. The therapy is meant to boost the body's natural process for responding to pain, increase blood flow, and encourage the production of hormones that promote reduced joint pain.
Heat and Cold Therapy: Heat releases tight muscles and cold slows down blood flow to ease inflammation. Connected Chiropractic uses alternating cold and heat therapy to provide relief from joint pain.
Ultrasound Therapy: Gentle, therapeutic heat generated by ultrasound waves penetrate deep into the body's tissues and is a good therapy for joint pain. It improves circulation and lessens cramping, swelling, muscle spasms, and pain.
Goal setting for a patient's Joint Pain chiropractic treatment is based on the patient's level of pain, severity of disability caused by their joint pain, and activity intolerance.
Connected Chiropractic's Doctor and Staff take the time to understand your type of Joint Pain so that it is treated appropriately.
Don't live another day with Joint Pain! Relief is just a phone call away or you can schedule an appointment online today by clicking on the "Schedule Healing Now" button below!
Schedule Joint Pain Healing Now…
Clinic Hours:
Monday: 9am-11am / 3pm – 6pm
Tuesday: 9am-11am / 3pm – 6pm
Wednesday: 9am-11am / 3pm – 6pm
Thursday: 9am-11am / 3pm – 6pm
Friday: CLOSED
Saturday: CLOSED
Sunday: CLOSED
What Our Patients Are Saying...
Your Health Starts Here!
Let us know how we can help by filling out the form below or give us a call at (970) 587-7029