Treating Lower Back Pain with Chiropractic Care
Lower Back Pain can be very debilitating and can be the result of a strain or injury to the muscles or tendons in the back. Arthritis, alignment problems, and disk injuries can also be reasons for Lower Back Pain. The good news is, Lower Back Pain often gets better with rest and chiropractic adjustments…both of which are less invasive and easier on the body than physical therapy, over the counter pain medication, and surgery. That is why Chiropractic Care is an excellent option for treating and easing Lower Back Pain quickly and effectively.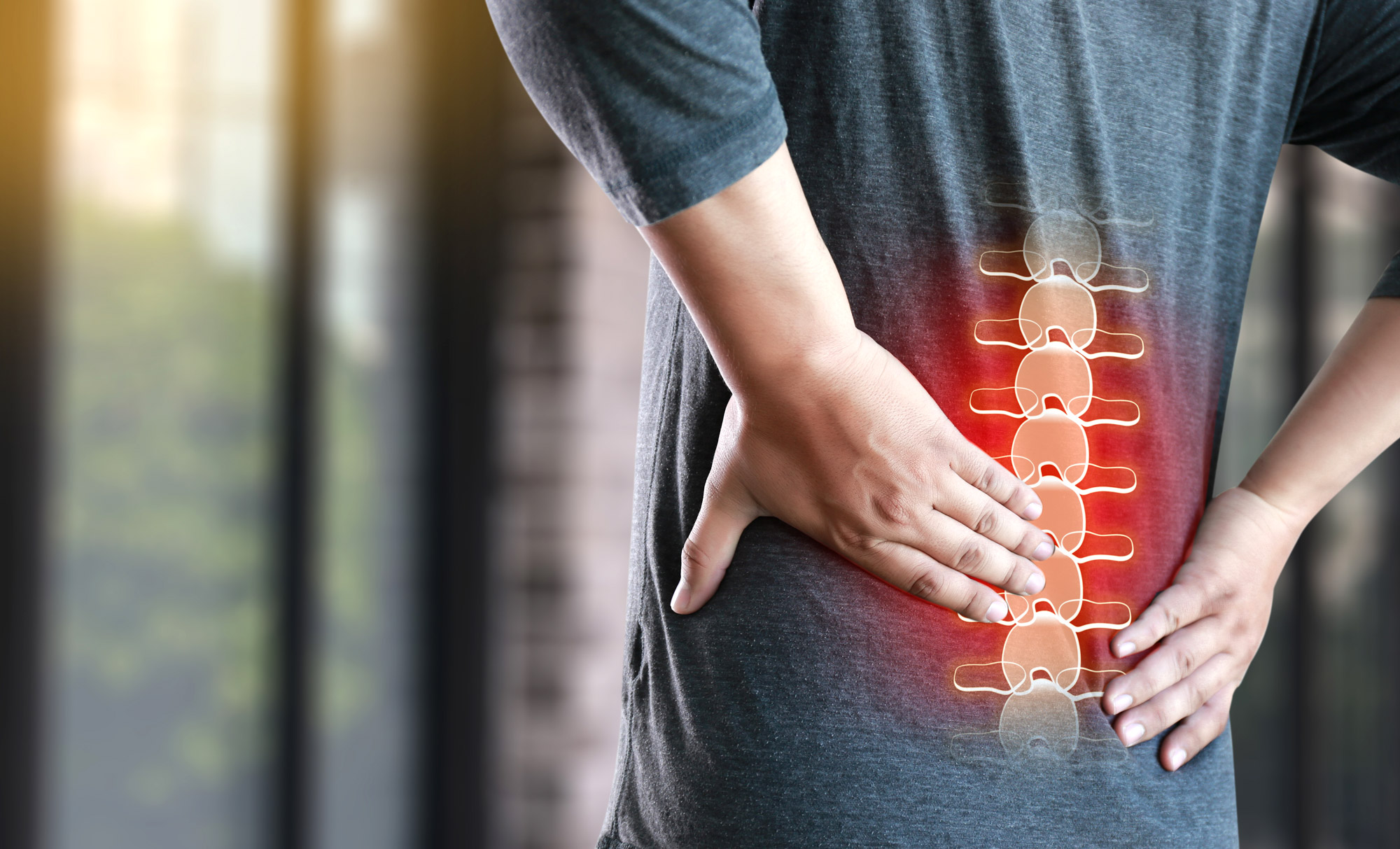 Is Lower Back Pain Common?
Yes, Lower Back Pain is common. If you are currently experiencing or have encountered this type of pain, you know it can affect almost every aspect of your life. It is one of the top causes of disability in the U.S. and it can be expensive to deal with too. This is due to time off work, money spent on medical doctors, addictive pain medications that only treat the symptoms, spinal injections, and even surgeries. The great news is, Chiropractic Care is less expensive and can be an even healthier option. Adjustments allow the body to do the healing and addresses the underlying cause of the pain…not just the symptom.
Four out of five people have experienced this type on pain at some point in their lives.
Causes of Lower Back Pain
At Connected Chiropractic we use the "Three Ts" approach to treating lower back pain.
If functioning properly, your body is a resilient, self-healing, and self-regulating system.
At Connected Chiropractic we treat the whole body to ensure that the body, central nervous system, and mind are working in tandem throughout the healing process. We believe the best way to treat and prevent most pain is by understanding the "Three Ts."
At Connected Chiropractic, we understand that the causes of this type of pain stem from the "Three Ts."
Thoughts – Emotional Stress
Toxins – Chemical Stress
Trauma – Physical Stress
Our mission is to ensure that everyone we treat has a better understanding of the "Three Ts" and the impact they have on your health and wellness.
Unfortunately, certain people may be more prone to Lower Back Pain, but everyone can take steps to address it and counteract it. Some of the risk factors and causes include:
Excess Weight: Carrying extra weight is one of the most common reasons for back pain, it puts pressure on the body's joints and disks making it a trauma. Due to the emotional strain that it may cause people, it could also be categorized as a thought issue. If weight gain occurs from a poor diet and improper nutrients, it could even be stress from toxins.
Getting Older: As we age, the disks in our spine can wear away. When this happens, pain and stiffness in the lower back are often the result making this another trauma.
Issues with Skeletal Structure: Conditions like scoliosis or other malformations due to injury or genetics that change spinal alignment can cause severe pain in your back. This would also be considered a trauma. If the severity causes emotional distress, this could only inhibit the body's healing process which also places this into the thought category.
Health and Fitness: When overall health suffers, physical fitness can slide downhill.  Weak abdominal muscles often lead to lower back strains and sprains, making this a trauma. If these people used exercise to relieve emotional stress or as a relaxation technique after a long day, not being able to do their usual activities could lead to a thought issue. People who drink heavily, smoke, and/or live a sedentary lifestyle have a much higher risk for back pain, especially because alcohol and smoke are major toxins.
Activities, Sports, and Occupation: Stressful activity (thoughts), sports (trauma), and occupational hazards (both trauma and toxins) that are a part of an overworked environment and a high-risk job title, involve routine heavy lifting or continuous bending, or include regular exposure to cleaning supplies or other chemicals can increase the risk of back injury or pain.
Disease: Individuals at risk of osteoarthritis, certain types of cancer, or other diseases have a higher risk of developing this type of pain (trauma).
Depression and Anxiety: These types of mental health issues can also cause back pain as our minds are connected to our bodies (thoughts).
Treating Lower Back Pain with Chiropractic Care
If you are suffering from severe Lower Back Pain, it's wise to seek immediate Chiropractic Care to confirm what might be going on and address it before it becomes a serious health risk. More serious cases can result from a broken vertebra, bulging/herniated discs, or other damage to muscles, ligaments, and tendons.
Its best to get checked out quickly if you are suffering with:
Pain that doesn't ease on its own
Tingling, numbness, weakness, or pain in your buttocks or legs
Severe pain or muscle spasms that interfere with your normal activities
Fever, weight loss, bowel or bladder problems, or other unexplained symptoms
In 2017 The Journal of the American Medical Association (JAMA)1 endorsed spinal adjustments for the management of low back pain. 27 randomized clinical trials found that spinal adjustments (referred to as SMT in the articles), produced significant improvements in patient function and decreased levels of pain in six weeks or less. The study determined that chiropractic is a safe, effective, and drug-free approach to address this issue.
The American College of Physicians (ACP)2 has officially published guidelines for Lower Back Pain supporting Chiropractic Care as a first-line option for patients with both acute and chronic Lower Back Pain.
Did you catch that? Medical doctors have officially and FINALLY recognized that Chiropractic is a good choice for diagnosing and treating Lower Back Pain. It's about time!
Connected Chiropractic's Board-Certified Chiropractor has successfully treated thousands of cases and is prepared to help you too…all through manual, non-invasive, drug-free Chiropractic Care:
Spinal Adjustments and Manual Therapies: This type of adjusting refers to a high-velocity, short lever arm thrust that is applied to abnormal vertebrae with the goal of improving functionality, reducing nerve irritability, and restoring range of motion in the back. It also clears the pathways of communication throughout your nervous system that helps your body better deal with outside and inside stressors (thoughts and toxins).
Mobilization: Chiropractic mobilization refers to low velocity adjusting, movement, and stretching of the muscles and joints, with the goal of increasing the range of motion within those areas.
Goal setting for a patient's Lower Back Pain chiropractic treatment is based on the patient's level of pain, severity of disability caused by their pain, and their activity intolerance. Connected Chiropractic's Doctor and Staff take the time to understand the source of your pain and treat the cause, not just the symptoms. Our care plans involve 3 phases – Relief, Rehabilitation, and Correction.
Don't live another day with Lower Back Pain! Relief is just a phone call away or you can schedule an appointment online today by clicking on the "Schedule Healing Now" button below!
Schedule Lower Back Healing Now…
Clinic Hours:
Monday: 9am-11am / 3pm – 6pm
Tuesday: 9am-11am / 3pm – 6pm
Wednesday: 9am-11am / 3pm – 6pm
Thursday: 9am-11am / 3pm – 6pm
Friday: CLOSED
Saturday: CLOSED
Sunday: CLOSED
1Journal of the American Medical Association. (2017, April). Association of Spinal Manipulative Therapy With Clinical Benefit and Harm for Acute Low Back Pain Systematic Review and Meta-analysis Retrieved from Journal of the American Medical Association
2 American College of Physicians. (2017, April). Noninvasive Treatments for Acute, Subacute, and Chronic Low Back Pain: A Clinical Practice Guideline From the American College of Physicians. Retrieved from American College of Physicians
What Our Patients Are Saying...
Your Health Starts Here!
Let us know how we can help by filling out the form below or give us a call at (970) 587-7029