Chiropractic Care Corrects Scoliosis
While everyone has subtle natural curves in their spine, scoliosis creates side-to-side spinal curves that are not natural and twist the spine. The spine will normally appear as a straight line in an x-ray taken of the front or the rear view of the body…scoliosis will make it look more like an "S" or "C" shape. Most cases are mild with few symptoms. However, severe scoliosis can be painful and disabling. When left uncared for, a mild case can become more serious. Connected Chiropractic's top-rated chiropractic care could keep your scoliosis from worsening, provide symptom relief, and in some cases, reverse and correct some of the damage. While there is no recognized cure for scoliosis, preventative care can keep you active, healthy, and doing the things you love.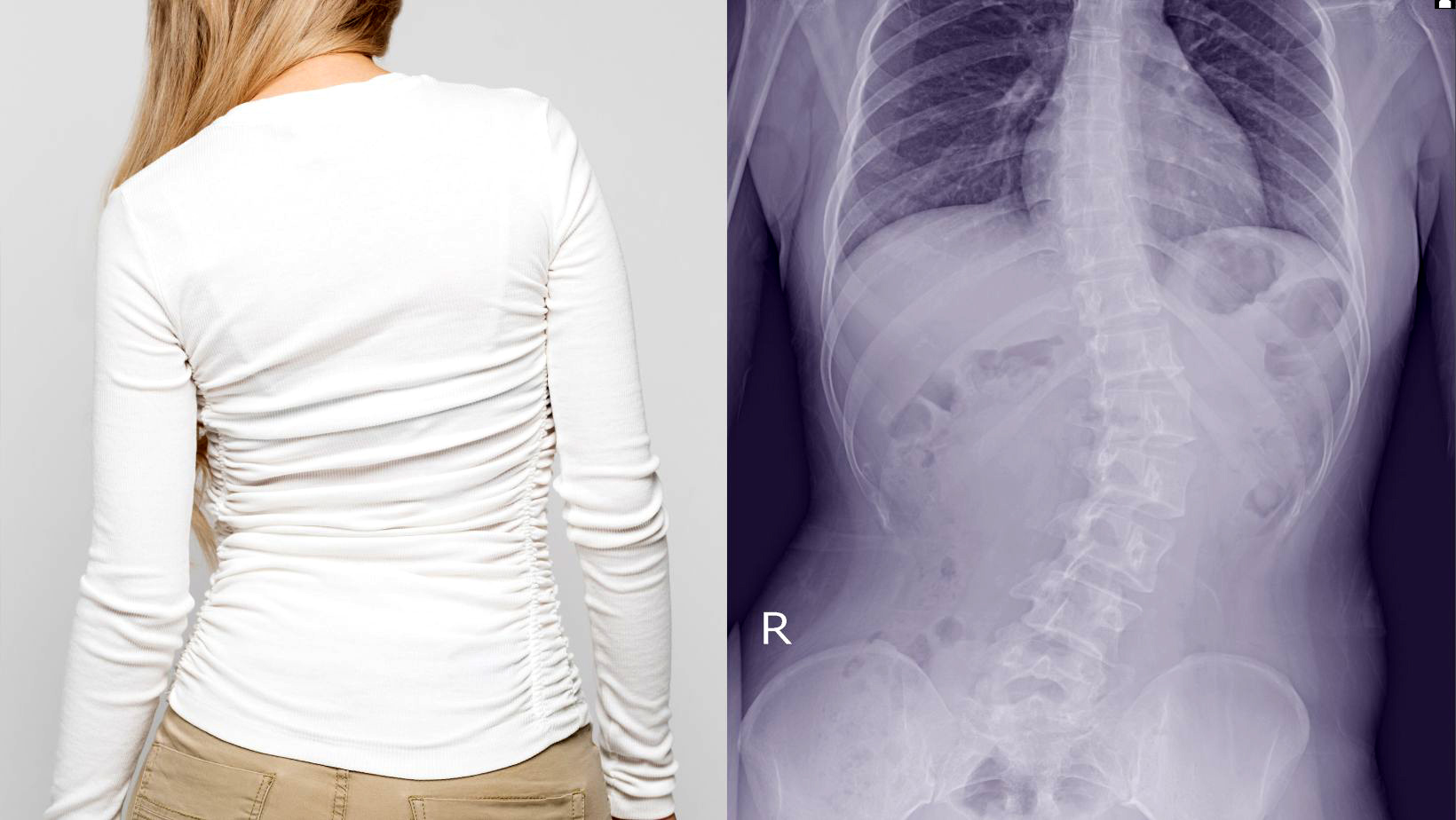 How Common is Scoliosis?
The fact that most people have heard of or understand the basics of what scoliosis is means that it is a common condition. According to the National Scoliosis Foundation1, it "affects two to three percent of the population, or an estimated 7 million people in the United States" alone. Imagine this number for the rest of the world plus undiagnosed cases too…that is A LOT of people! It also accounts for 20 percent of all spinal deformities in the U.S., the most common spinal issue amongst children in school, and for over 400,000 doctor visits for children a year. Now knowing how common scoliosis can be, the best thing to do is schedule an appointment for you and your family to see if these numbers include you or them.
Early diagnosis is SO important when it comes to ensuring a healthy, normal, and pain-free life. It increases the available treatment options, impedes the progression of harmful curvatures, and keeps confidence up in young adolescents by keeping away deformities. The most common types of scoliosis are adolescent and idiopathic. "Idiopathic" simply means that there is no identifiable cause for the unnatural curvature. This accounts for 80 percent of scoliosis cases.
Some of the risk factors for developing this condition include:
Age – signs and symptoms most often appear in young adolescents (10 – 15 years old)
Sex – girls have a higher risk of developing severe scoliosis

Some of the key characteristics to watch for include:
Uneven hips, waist, and shoulders
Arms hanging at different levels
A head that is uncentered over the pelvis
A tilted stance when standing
Legs that appear to be different lengths
Having one shoulder blade that sticks out more than the other
What Causes Scoliosis?
Unfortunately, the majority of scoliosis cases do not have an identifiable cause…the 80 percent that is "idiopathic." This makes the condition very unpredictable and mysterious. It also means that it is more likely a symptom of another issue, or multiple other issues. Since there are a variety of factors that contribute to the progression of spinal curvature, many of which are unknown, it allows for many potential causes of scoliosis and should continue to be explored and studied so that one day it might be better understood. Luckily, the remaining 20 percent of cases do have identifiable causes.
These include:
Neuromuscular scoliosis, when a disconnect between the nerves and muscles occur in conditions such as muscular dystrophy and cerebral palsy.
Traumatic scoliosis, which occurs as the result of a trauma like a fall, a serious car accident, or other severe injury.
Degenerative scoliosis, which is when the discs within the spine degenerate over time like with degenerative disc disease.
Congenital scoliosis, which occurs when the bones within the body do not form properly and therefore, do not provide needed support.
Because the majority of cases are "idiopathic," our educated staff at Connected Chiropractic know to include the "3 Ts" as causations for the development of scoliosis.
Trauma – Physical Stress
Toxins – Chemical Stress
Thoughts – Emotional Stress
It is important to tackle every angle to avoid the progression of harmful curvatures and to help you live the best life possible.
Symptoms of Scoliosis
Outside of the early characteristics of adolescent idiopathic scoliosis above, there are other symptoms that begin to appear with the varying types and stages of the condition.
Some of these other symptoms include the following:
Mid to Low Back Pain
Poor Posture
Difficulty Sitting, Standing, or Walking
Humpback
Damaged Nerves
Weakness, Numbness, and Pain in the Legs and Feet
Difficulty Breathing
Fatigue
Increased pressure on the heart
Self-esteem issues
Neuropathy…which can lead to other issues as well
Depending on the amount of damage to the spine, different treatment options are available to best help each individual diagnosis. The goal is to avoid invasive surgeries and powerful yet damaging medications.
Scoliosis and Chiropractic Care
Our board-certified chiropractor has a detailed knowledge of the musculature and skeletal components of the body and spine. This knowledge also covers any issues, conditions, and disorders of the musculoskeletal system. Our initial exam process for new patients can result in identifying scoliosis and our care plans include recommendations to relieve or reduce scoliosis symptoms. At Connected Chiropractic in Johnstown, we understand that each case is unique, especially when it comes to helping with this particular disease. Effective diagnosis is key to developing a care plan that is right for each case to deliver results.
Early detection, understanding that it is an ongoing battle, and knowing that there are no quick solutions are all very important when it comes to understanding scoliosis. While joints in the spine need to be repositioned, we understand that, for any long-term benefits, there is more to it. It requires a lifestyle change and patient dedication.
Ways that we can help accomplish these benefits include:
Spinal Repositioning: Connected Chiropractic's skilled and experienced chiropractor will provide spinal adjustments to relocate joints, bones, and discs within the spine. Many patients with scoliosis find that chiropractic adjustments both reduce their pain and alleviate other symptoms by decreasing nerve tension. This increases the body's ability to function and heal.
Spinal Decompression: When appropriate, spinal decompression will use gentle pressure to stretch the vertebrae, relieve tension on pinched nerves, and might even correct abnormal curvature of the spine.
Massage Therapy: Connected Chiropractic's massage therapists provide effective, deep tissue massages that release muscle tension caused by scoliosis. Due to the abnormal curvature of the spine in these cases, it creates an imbalance of work on muscles in the neck, back, and hamstring areas that overwork the muscles to the point of spasming. With massage, the muscles cause less pain, reduce the likelihood of spasms, and return patients' ability to do normal activities.
Stretching and Exercise: To patients who have scoliosis, stretching can be extremely beneficial. It can help relax muscles that become tight on one side of the body. Certain exercises can strengthen the weakened muscles on the opposing side. Patients can learn to move and rest in ways that can both minimize and relieve pain while improving supportive muscles and joints.
Lifestyle Changes: Our office offers coaching for lifestyle changes that encourage ideas for staying active without increasing symptoms. We can also connect patients with proper resources if they are suffering from mental issues related to self-esteem. Most importantly, we help patients stay motivated because a patient's level of commitment is the most important factor in how much improvement they will see.
Find out if you may have scoliosis and start preventative and corrective care! Call or schedule online today by clicking on the "Schedule Healing Now" button below!
Clinic Hours:
Monday: 9am-11am / 3pm – 6pm
Tuesday: 9am-11am / 3pm – 6pm
Wednesday: 9am-11am / 3pm – 6pm
Thursday: 9am-11am / 3pm – 6pm
Friday: CLOSED
Saturday: CLOSED
Sunday: CLOSED
What Our Patients Are Saying...
Your Health Starts Here!
Let us know how we can help by filling out the form below or give us a call at (970) 587-7029